If you are looking to add an element of sophistication and luxury to your home in San Francisco, then one great option for custom window treatment in San Francisco is plantation shutters – a timeless classic that has been popular since the 16th century! 
Instantly upgrade your home with the unmatched beauty of indoor plantation shutters. Custom plantation shutters are made to fit your windows perfectly and operate properly. Let's explore the six key plantation shutters benefits and why San Francisco homeowners love them.
What Are Plantation Shutters and What Are They Used For
Modern plantation shutters are indoor window treatments for your home. These shutters fit the window frame and open outward by hand instead of a pull cord, as you see on window blinds. Shutter panels consist of a structure with horizontal slats that tilt with a visible or non-visible tilting rod and work as horizontal blinds do. You can choose from many styles that open and close differently from each other to customize your desired appearance.
6 Plantation Shutters Benefits You Didn't Know About
Plantation shutters are quite the hidden gem of all window treatment products with many exceptional attributes and are available at a window treatment store near you. Here are the six plantation shutters benefits and why they may be the perfect addition to your home:
Plantation shutters give you more options for precise lighting control than other types of window coverings. You can tilt the slats to direct filtered light inside your home and reduce the glare from the bright UV rays of the sun. When the shutter panels are closed and the slats are closed, shutters have a room-darkening effect. If you want perfect views of the outside world, you can simply swing open the shutters and have an unobstructed view out of your windows while allowing natural lighting into your indoor spaces.
Indoor shutters are highly energy-efficient window treatments. To seal warm air next to your windows in the summer and cold air next to your windows in the winter, the slats slightly overlap one other when they are closed. This translates into using much less electricity for heating and cooling to keep your indoor spaces at a comfortable temperature all year round.
One of the main plantation shutters benefits is the privacy and security they offer. They provide complete privacy from the outside world, making them an ideal choice for bedrooms and bathrooms. In addition, the sturdy construction of plantation shutters provides an added layer of security to your home. They are difficult to force open, which can deter potential intruders and protect your home and family. Some plantation shutters come with locking mechanisms that further enhance their security features.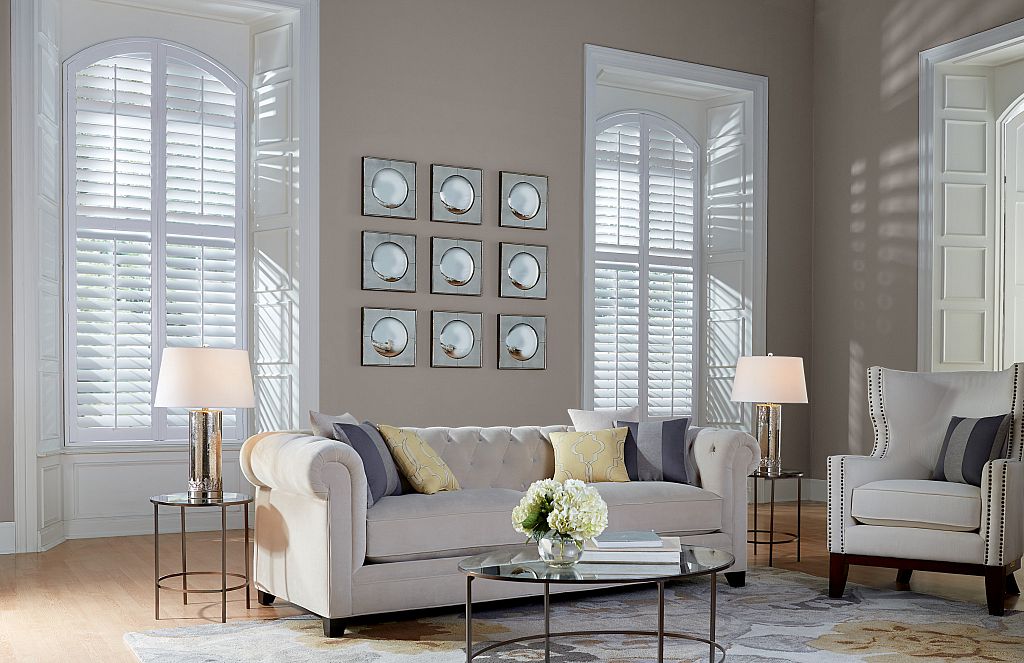 Another benefit of plantation shutters is the ability to control room ventilation. The louvers of the shutters can be adjusted as desired, making them an excellent option for rooms where air circulation is essential. You can direct the airflow and control the room's temperature by tilting the louvers.
Plantation shutters are both a classic and classy design that never goes out of style. They aren't trendy or a fad that will need replacing in the future when the style changes. Shutters never age your home or make it appear retro.
Indoor shutters can be painted or stained in any color you wish to match your decor and color palette. They can be coordinated with the wood flooring in your home, the stain on your cabinets, or even the trim work in your house. Otherwise, you can have them painted in classic white to blend in with their surroundings or a bright color for adding interest to a room as a focal point.
Different Types of Plantation Shutters and How to Choose the Right One for You
You can choose your custom plantation shutter materials, colors, louver sizes, and operating systems. Choose from beautiful natural wood shutters, faux wood shutters, or vinyl shutters. Each of these types looks the same as the other with the beauty of hardwood and manmade materials appearing the same as hardwood.

Choose from several styles of plantation shutters to suit your taste and needs. The mounting style of your shutters dictates how they look on your windows when they are closed and how they operate to open, as well. Cafe shutters only cover the bottom half of a window, but they work well for windows that don't get a lot of sunlight and heat. Full-height shutters have a set of two shutter panels that cover the entire window. Tier-on-tier shutters have two sets of shutter panels: one set at the top of a window and another set at the bottom. The two sets operate separately from one another, so you can open or close either one of the two sets.
How to Install Plantation Shutters in Your Home
Your first step is to assemble the frame for the shutters and then level it and center it to the inside of the window casing. Then screw the shutter frame to the wall through the frame at the top left, top right, and top center of the window frame.
Next, you install the shutter panels onto the frame by inserting the hinge pins. Secure the shutters to the frame on the sides and bottom of the shutter frame. Place the catch button on the tip of the window frame and screw it in place. Install the strike plate and button on the panel. Once successfully installed, you'll be able to enjoy the many plantation shutters benefits and the elegant touch they add to any room.
Care and Cleaning Tips for Plantation Shutters
Plantation shutters in San Francisco are quite easy to clean and maintain. Close the shutter panels and the slats, and use a feather duster on the front of the shutter panels. Then open the shutter panels and clean the back side in the same manner. Close the shutter panels and open the slats to clean them with a feather duster or swiffer.
Love It Already? Let Us Help You Get Started
The range of plantation shutters benefits makes them a popular choice among homeowners in San Francisco. If you're looking to enhance the look and functionality of your windows, this particular window treatment is definitely worth considering.
At The Window Design Studio, we carry a full line of plantation shutters in the highest quality materials on the market. We can customize your indoor shutters in any manner you wish, and we specialize in specialty-shaped and hard-to-fit windows. In addition to the plantation shutters benefits, we also offer a complete turnkey process for your peace of mind with a FREE in-home consultation. Then we fabricate your shutters and return to professionally install them for you. It doesn't get any easier than this! Contact us today to schedule your consultation with an expert designer!