Even the tidiest people can struggle with keeping their closets organized. When the door is closed, it's out of sight and out of mind, and then when you are searching for a particular pair of shoes, a blouse, or a scarf, it takes up a lot of time to find it if everything is in a jumble. Some tips can help you to take charge of all your closet space and organize it. Read on to find out how to get it all together with custom closet organization.
6 Tips Before Organizing Your Closet
Following a few tips in advance will help to save you time when you are organizing your closet. Depending on the size of your closet and how full it is, this can be quite a daunting task that seems very large. Breaking it down into smaller steps will help you get through the entire process.
1. Assess Your Vertical Space
Closets will have a ceiling height of at least 8 feet or more. That gives you an immense amount of vertical space to store items. Consider adding a pegboard with hooks on it to hang purses, belts, scarves, and neckties. You can also mount shoe racks to a wall to have all your shoes in plain sight. Hang a storage bag with pockets over the door, so it's on the inside of the closet and put small items in the pockets such as shoes, and jewelry.
Most people put their shoes on the floor of the closet, and they can get jumbled up, and then you have a hard time finding the same two that are a pair. A lot of times handbags are also stored on the closet floor. Find a different way to store these items with open shelves and put items in clear plastic boxes, so they are easy to see. A set of cubbies also work exceptionally well for shoe and purse storage areas.
3. Dress The Walls With Jewelry
When choosing an outfit to wear, tops, bottoms, and shoes are essential, but jewelry polishes off your appearance. Utilize wall hooks to hang your jewelry on, such as necklaces, bracelets, rings, and watches. This will make it easier to choose your jewelry and see how it will work with your outfit, and it keeps your items from getting tangled and disorganized.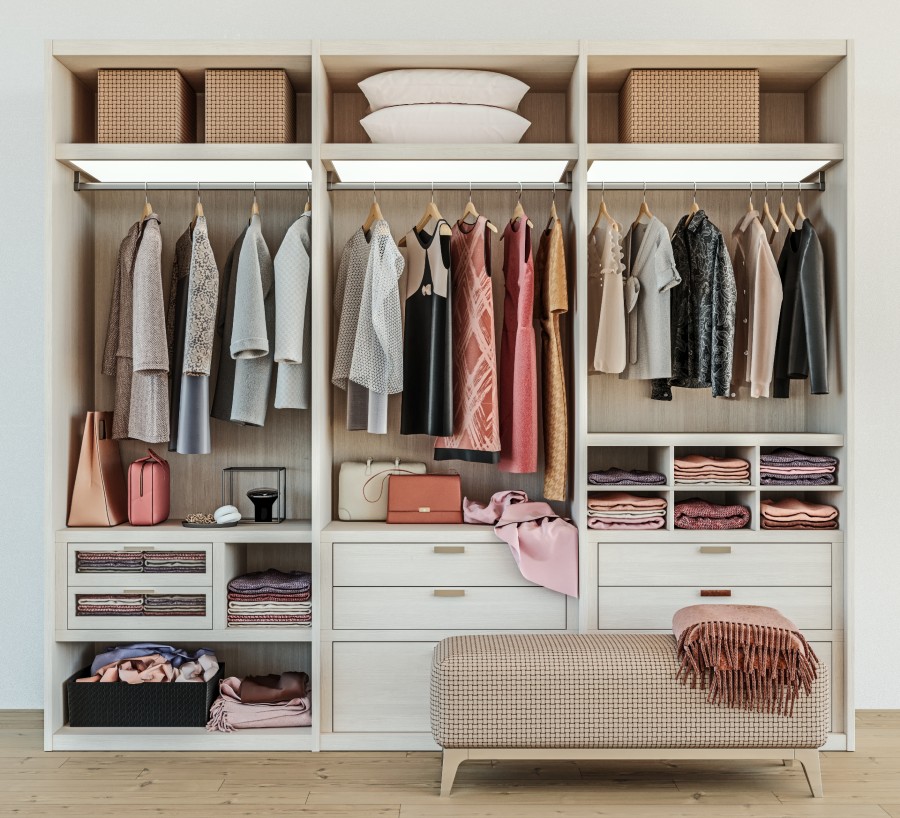 Most everyone has different sizes and colors of coat hangers in their closet, which can make it look disorganized and messy. Buy a large set of coat hangers that are uniform in size, shape, and color to give your closet a polished and deliberate appearance. This tiny step makes for an amazing appearance.
When your closet has a dim overhead light, it makes shadows on the items in it and makes it look cluttered, as well. Consider changing the lighting to brighten it up with table lamps, floor lamps, or even hanging pendant lights. This will breathe light into your closet and make it look more organized, clean, and cheery.
6. Replace Cardboard Boxes
If you've been storing your shoes in the original shoe boxes or if you have documents or other items in cardboard boxes, toss them out. Replace the cardboard boxes with wire drawers, storage bins, crates, or wicker baskets to declutter your closet, and try to store items on a top shelf that you don't use often.
Achieve the Perfectly Organized Closet Today With These 7 Keys Steps
Now that you have an idea of making more storage spaces that look neat and tidy, it's time to organize your closet. Here are the 7 steps to custom closet organization:
Clear everything out of the closet including, shirts, shoes, pants, storage boxes, and bins. When you take everything out, you can start with a clean slate and make better decisions on how to make the best use of your space. If your closet is very full, then take out a portion of items to organize them, such as just your jeans, and then move on to another category.
You can sort your clothing into groups in many different ways. Some people group exercise clothing together and more formal items together, or you may group colors together. The most basic manner of sorting your clothing is to group them by type, such as tops, bottoms, etc. Then make subgroups too for your shirts to keep the T-shirts together and blouses together.
Decide what clothing items you don't wear very often, if at all. Put these items in a pile for donations, and if you have duplicates of the same clothing, just keep one. If you ask yourself if you love this item and your answer is no, then it should also go into the donation pile for a second-hand store.
Since everything is out of your closet at this point, it just makes sense to do a quick cleaning of it. Vacuum the floor and dust off all the shelves or other organizers.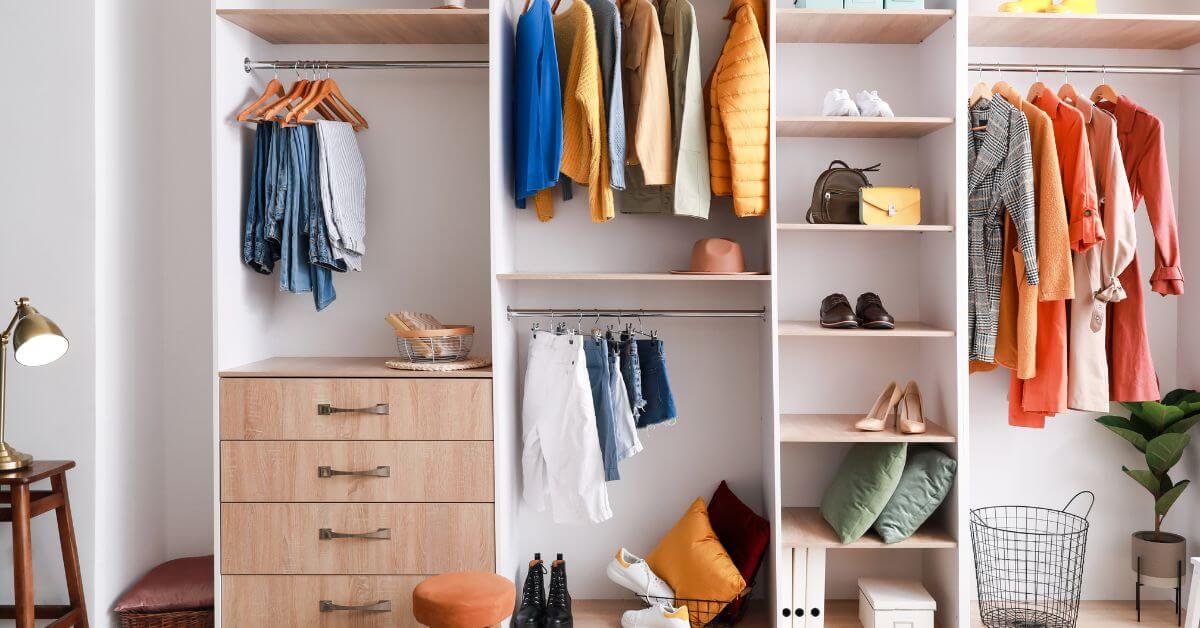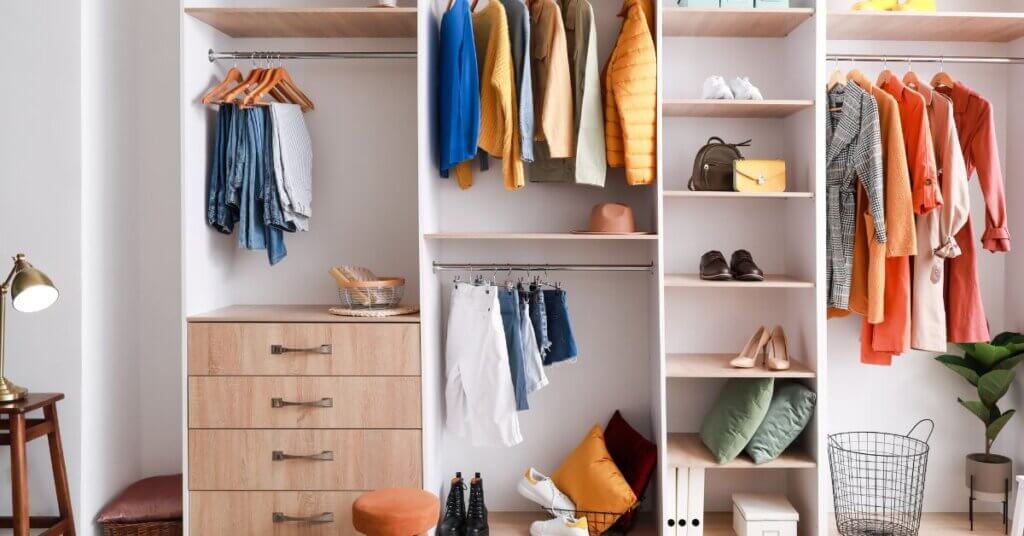 5. Decide How You Want Your Clothing
Some people prefer to hang all of their clothing on clothes hangers, but others like some items to be folded neatly on a shelf, such as sweaters. Evaluate your empty closet and determine which groups of clothing you want to put where. You can add a long shelf over the clothes rack and put folded items on the shelf. Get ideas from looking at closet organizers such as shelving units.
Now you can return all of your clothing to your closet while keeping like things together and your sorting groups together, as well. Since you likely tossed out quite a few articles of clothing, the items you wear all the time should fit much better.
7. Reevaluate Your Closet
Every 3 months or so, toss out, or donate clothing you aren't wearing. You can tweak your custom closet organization plan and make changes to it at any time to keep your closet nice and tidy.
Need Help With Custom Closet Organization?
Custom closet organization is a great investment for your home. Whether you're looking to improve your wardrobe storage or simply want to keep your closet tidy, these tips can help you achieve your goals. So why not give them a try and transform your closet into a space that works for you?
At The Window Design Studio, we have a team of experienced closet designers for you. We create a custom closet organization for all sizes of closets with amazing results to keep all of your items where they are easy to access and easy to find. A combination of storage solutions includes baskets, bins, drawers, and shelving units to hold all your items for you. We have over 15 years of experience in helping homeowners in the San Francisco area get their closets organized. Contact us to schedule a FREE in-home consultation with one of our designers. You'll be glad you did!