Modern interior window shutters are the quickest way to upgrade your entire home to add a timeless and classical appeal to it. They are classical as they are reminiscent of old grand plantation homes. The timeless appeal is that they never go out of style, so you won't need to replace them with trendy window treatments that are no longer the up-and-coming item.
Benefits of Modern Interior Window Shutters
Shutters are the only window treatment that adds value to your home and increases your property value in the event that you want to sell your home in the future. They are the only window treatments that are considered permanent and stay with the home when it's sold.
The construction of this type of window covering is so durable and sturdy that they usually come with a lifetime guarantee. Custom shutters are also guaranteed to fit perfectly and operate properly for life.
When your shutter panels and slats are closed, they add an extra layer of insulation next to your windows to keep warm air from entering your indoor spaces in the summer and to keep cold air out in the same manner in the winter months. This allows you to use less electricity to keep your home at a comfortable temperature all year long, and in turn saves you valuable energy. This feature actually pays for the cost of your shutters over time
How to Choose Interior Shutters for Your Home: The Many Options
You can choose from a huge selection of styles, colors and versatile lighting control methods for your shutters, so you are sure to find the perfect product for every room in your home. Custom shutters can be perfectly fitted to any size and shape of window or door, including specialty shapes to highlight the architectural features in your home.
The most beautiful shutters by far are made of composite wood or real hardwood. These materials have superior strength to be durable in homes with children and pets and in high-traffic areas of your home. The beautiful wood grain patterns are accented by the color of paint or stain you choose in a multitude of colors. You can choose a stain that matches your trim or flooring in your home, or choose a neutral paint color to blend in with their surroundings. Otherwise, you can choose a coordinating color to go with your color palette or a bright color to make your windows a focal point in any room.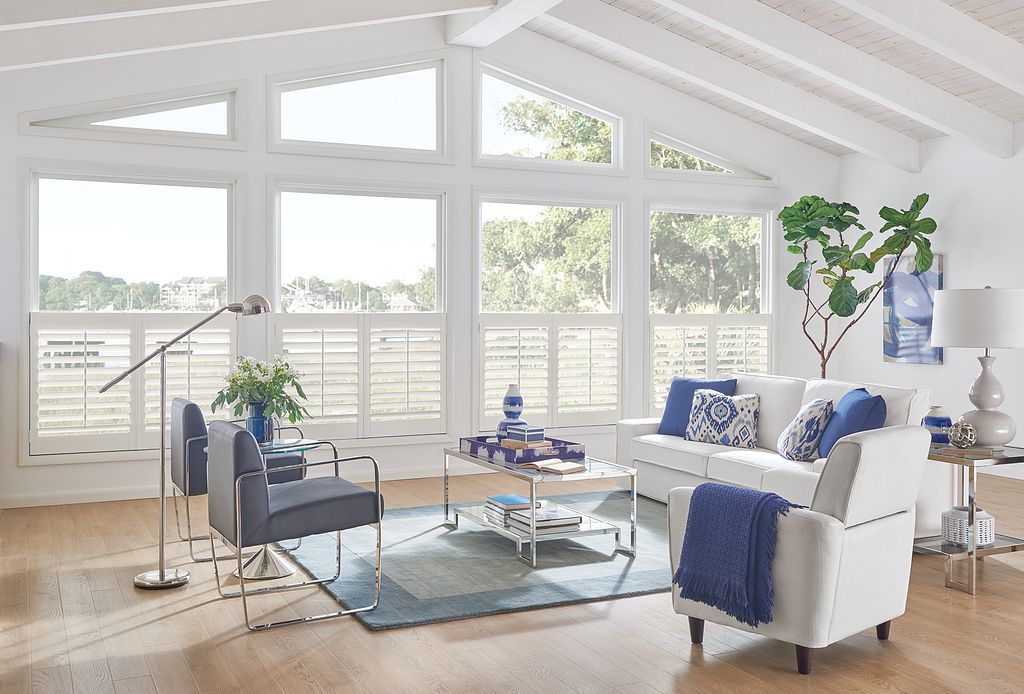 This style of shutter works extremely well in windows that don't get a lot of heat or sunshine in them. They only cover the bottom half of your windows and leave the top half open for natural sunlight to brighten your indoor spaces. When they are closed, they give you privacy, and you can tilt the slats for filtered lighting or swing the panels open for a full-view outside.
Get the ultimate in lighting control with the tier-on-tier style of shutters. They consist of two sets of shutter panels side by side, with one covering the top half of the window and the other covering the bottom half. You can operate each of the sets individually for partial lighting, filtered lighting, or open them for letting in sunshine and warmth in the winter. This style is especially popular if you have windows that face the beach, so you can open your windows wide and see all the activity outside.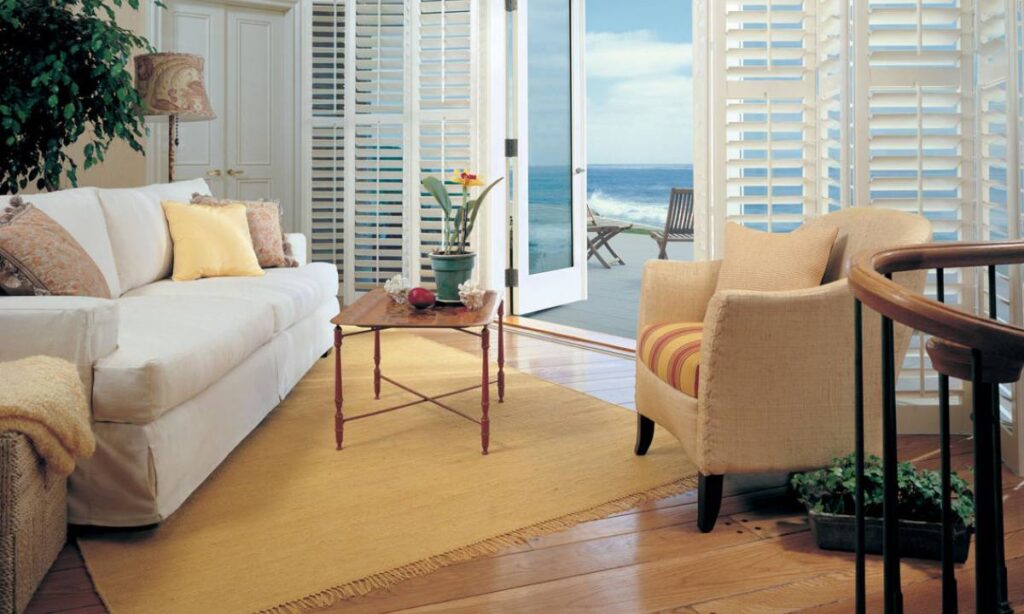 This style of shutter adds architectural interest to your windows. If you are looking for texture and interest, solid shutters can be paired with windows or enhance French doors. Since solid modern interior window shutters are single panels with no gaps for drafts to pass through, they are also great for keeping your home warm and cutting your energy costs this winter when the cool winds blow from the west, as well as sealing out heat in the summer.
Shutters can be a standalone window treatment, or you can layer them for a great statement piece with drapery panels. The shutters of choice will be your first layer next to the window and the drapery panels will be on top to add beautiful color and texture with patterns to match your decor. Installing the drapery panels from ceiling-to-floor length adds a significant amount of drama to a formal room, and it makes the windows look taller and the entire room look larger.
Full-length windows that stretch from the ceiling to the floor look spectacular with shutters as a window covering. Instead of painting your walls in a bold color, consider painting the shutters in something bright and beautiful for a pop of accent color to match an area rug or your furniture.
When choosing modern interior window shutters, you have so many great choices in customization. They match any interior design style, give you great features of lighting control, energy efficiency, and many styles from which to choose. Plantation shutters can add an instant upgrade to your already beautiful home. The Window Design Studio offers the highest-quality modern interior window shutters in the San Francisco Bay area. Contact us today for more information.