Exterior shutters are among the first items people notice when driving by your home. They give your house a cozy atmosphere with great curb appeal no matter what style or color you choose. Outdoor shutters are mainly for decorative purposes, but interior shutters are also a great addition to your home to increase its value, block heat, and sunlight out, give you privacy and look absolutely remarkable with their beautiful wood or faux wood finish. Read on to find out about all the different types of exterior shutters and how to choose the right one for your space.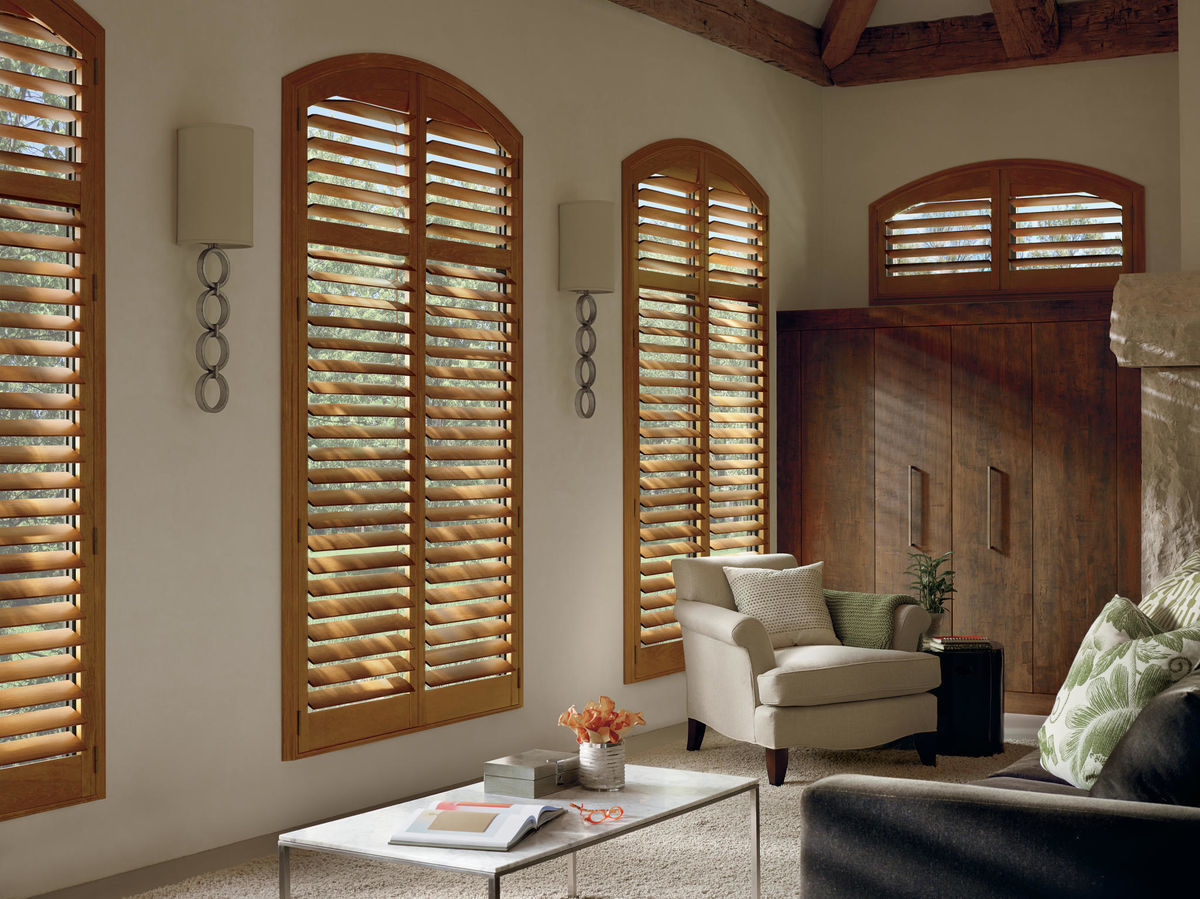 What Are the Different Window Shutter Types?
The two main types of exterior shutters are functional and nonfunctional – meaning that some are just for decorative purposes and others can actually protect your windows when closed against bad weather. Among the different types, there are many styles to choose from as well.
What Are the Common Styles of Exterior Shutters?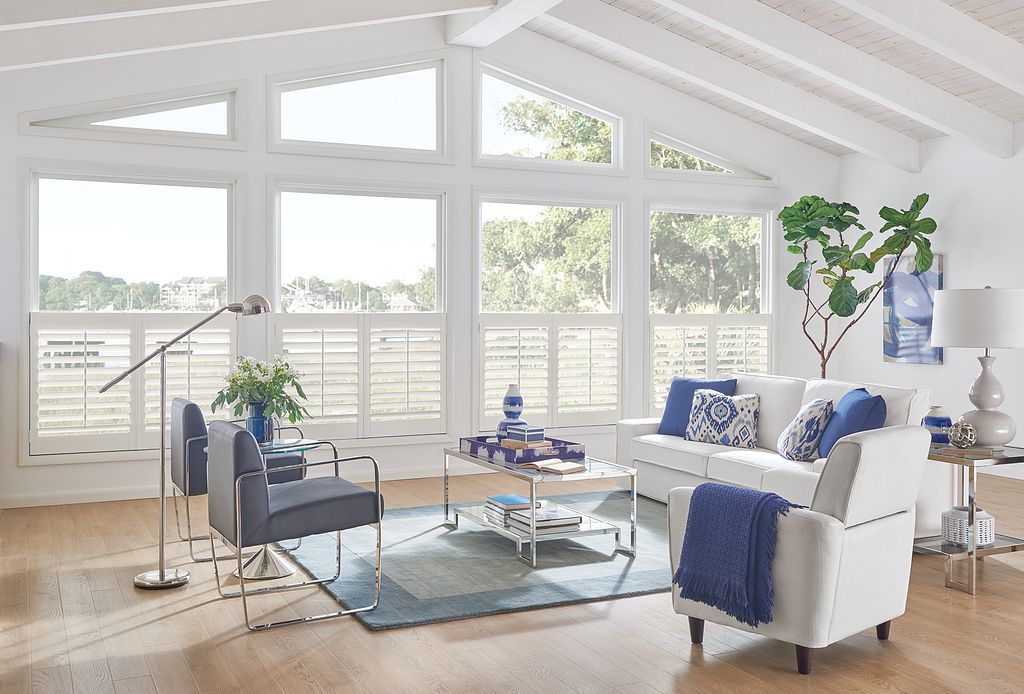 Louvered shutters are by far the most traditional look for the exterior of homes. They have horizontal panels that overlap each other, leaving spaces between them for light and air to circulate. They work well for many types of architecture, including ranch, Italian, Spanish, Georgian, Cape Cod, Victorian, and Greek revival homes. Furthermore, they are also a good choice for Federal style homes and colonial-style homes as an all-around exterior shutter. They attach to the side of the window and can be painted or stained in any color you wish.
This type of shutter looks like raised panel doors that you may have inside your home on your kitchen cabinets, and they can have double or single raised panels. They have a country style charm with a uniform appearance. As a result of their simplicity, raised panel shutters are an excellent choice for many architectural styles. It is possible to install raised panel shutters on Georgian, Victorian, French Country, ranch, and Greek Revival homes. You can also install raised panel shutters on Colonial and Federal houses. They are great on the first floor of both types of houses.
Bahama shutters are a type of louvered shutter, but instead of being attached at the sides of the windows, they attach at the top. These shutters cover your windows on the outside of your home. They are an excellent functional shutter to use near the coastline to block out wind and debris and keep your windows protected from storms of all types. They provide shade as well as protection from sunlight. In addition to shading rooms, Bahamas shutters also allow air to enter. Bahama shutters blend well with many architectural styles.
Board and Batten Shutters
Board and batten shutters are a bit rustic in their appearance. They have one to four horizontal boards that are fastened together with a cross panel of some sort that is called a batten. The batten has many different designs including horizontal or angular  in many shapes including spaces, squared, arch tops and joined. These shutters are sometimes called BNB or B and B. Due to their simple design, they appear antique and have a country-style look. A farmhouse or stone or brick house would be a good fit for board and batten shutters because of their minimalism. In addition to those architectural styles, board and batten shutters may also be used in Spanish, French Country, and ranch-style homes.
In many ways, a shaker shutter and raised panel shutters are very similar. Upon first glance, shaker shutters look very similar. Shaker shutters are flat rather than raised. They are a slightly simplified version of raised panels, which gives them a more modern and refined appearance.
Café style shutters cover only the lower portion of the window, leaving the upper portion unobstructed. They provide privacy while still allowing ample natural light to enter the room. Café style shutters are popular in cafes and restaurants, creating a cozy and inviting atmosphere. They can also be used in residential settings, particularly for ground-level windows or rooms where privacy is desired without sacrificing light.
Bahama shutters, also known as Bermuda shutters, are hinged at the top and open outward from the bottom. When fully extended, they provide shade and protection from the sun while allowing fresh air to circulate. Bahama shutters are commonly used in tropical and coastal regions, adding a touch of coastal charm and offering storm protection.
Plantation shutters are interior shutters characterized by wide slats (typically 2.5 to 4.5 inches in width). They offer excellent light control and privacy options, allowing you to adjust the angle of the slats for the desired amount of light and air circulation. Plantation shutters are often made of wood, vinyl, or composite materials and provide a classic, elegant look to any interior space.
Combination shutters offer a versatile solution by combining different styles. For example, you can have louvered shutters at the top section of the window for light control and raised panel shutters at the bottom section for added privacy. This allows for customization and flexibility to meet your specific needs and design preferences.
4 Factors to Consider When Choosing Exterior Shutters
Architectural Style of the House
The architectural style of your house should guide your choice of exterior shutters. Consider the overall design, whether it's traditional, modern, farmhouse, colonial, or Mediterranean. Different styles of shutters complement specific architectural styles, enhancing the overall harmony and coherence of your home's exterior.
Climate and Weather Conditions
Take into account the climate and weather conditions in your area when selecting exterior shutters. If you live in an area prone to high winds, storms, or hurricanes, you might want to choose sturdy and impact-resistant shutters that can withstand severe weather. Additionally, consider the level of sun exposure and temperature variations your shutters will endure. Certain materials and finishes are better suited for specific climates, ensuring longevity and optimal performance.
Budget and Long-Term Durability
Set a budget for your shutter project and consider the long-term durability of the materials you choose. While some materials like wood can offer a classic and authentic look, they may require more maintenance and can be more expensive than alternative materials such as vinyl or composite. Evaluate the cost-effectiveness and lifespan of the shutters to make an informed decision that aligns with your budget and long-term maintenance capabilities.
Personal Preferences and Design Aesthetics
Your personal preferences and design aesthetics play a vital role in choosing the right exterior shutters. Consider the visual impact you want to achieve and the overall style you desire for your home. Look for shutters that complement the color palette, architectural features, and other exterior elements of your house. Pay attention to details such as the shape, size, and decorative elements of the shutters to ensure they align with your personal style and taste.
While exterior shutters come in different styles and designs, the style of shutter you choose should suit your individual needs based on what is most important to you. Whether it's cost, style, or function, you want to make sure that your shutters serve its purpose as well as complement the architecture of your home. Weighing out all of the factors and researching each type of shutter can help you determine which type would best fit your requirements and preferences.
Don't forget that there may be additional regulations or guidelines when choosing exterior shutters in certain areas. If you need guidance selecting the best shutter for your home, schedule an appointment with The Window Design Studio. Our experts have the knowledge and experience to help you find something perfect for your home that meets all of your demands.