Wood shades, also known as woven wood shades, offer excellent window shading solutions due to their construction. Available in various colors and operating methods, these accents add warmth and charm to any space, creating an inviting atmosphere. 
Many homeowners and designers are turning towards bamboo and woven wood hues for texture. Yet, these products remain more affordable and accessible than ever – while still having that showroom aesthetic. Discover the woven wood shades benefits and find out if they fit into your decor and style perfectly.
Wood shades add a natural texture and beauty to your windows, replacing traditional slatted blinds. Fibers of bamboo, all-natural grasses, jute, and rattan Made of bamboo, all-natural grasses, jute, and rattan are woven into shades with rich texture and natural variation. 
Wood shades can be used in various decor styles and combinations for layering. Some woven wood shades may even be matchstick shades. You have your pick of colors, shades, and varieties.
Wood shades are free from toxic chemicals like polyvinyl chloride (or PVC), which may contain hazardous elements, and fabric or vinyl shade treatments that use chemicals to repel water/sun-bleaching, mold, and stains. All wood shades are crafted using only organic bamboo materials, which have all the desired properties without any chemical residues.
Woven Wood Shades Benefits and Properties For Your Home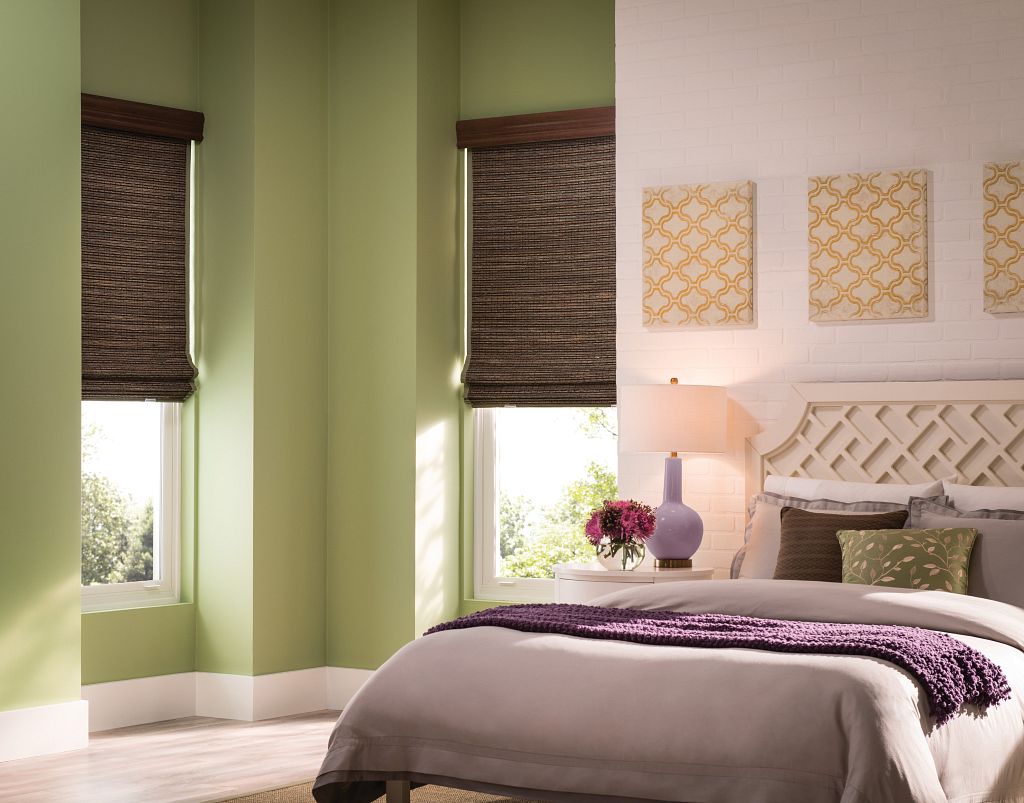 Shades is a term often used to refer to window shading products. Many homeowners and business owners associate fabric shades with styles like roman shades or roller shades, but wood shades offer numerous advantages that fabric alternatives cannot match.
Woven wood shades offer numerous advantages to homes and businesses in San Francisco including:
Eco-Friendly

Protection from the Sun

Many Colors

Privacy Liners or Blackout

Fully customizable

Motorized Window Treatment

Sustainable Materials

Environment-Friendly
The right wood shades can rejuvenate and upgrade the window treatments in your home. They come in a wide selection of choices, with customization available for any window – even specialty ones.
There is a multitude of styles and operations for wooden shades in San Francisco. You can choose between three basic control methods: standard cord lock with string, continuous cord loop, or wand control. 
If you integrate your shades into your smart home system, they will be automatically linked to security measures. You can also program them individually or in banks to open/close at specific times based on programming from a wall controller, remote or smartphone app – providing you the ultimate convenience at no extra cost.
Different Kinds of Wood Shades Available
Wood shades come in wide varieties. How they raise or lower can make them appear different. Roman styles, for example, create stacks of folds when raised while emerging as one solid sheet when closed completely. Roller style looks like a flat sheet when opened, while extra wood rolls around its mechanism on top of each window when opened. You can open either type to adjust your lighting and heat gain levels accordingly.
You have two primary wood colors to choose from, plus various styles to match your decor. The waterfall style offers a simple and clean look with neat stacks of fibers when raised. Standard roman wood shades provide a minimalistic look for window treatments. However, you can customize it further by adding custom valances at the top or adding colored tape borders along the sides and bottom with colored tape. Cascade roman shades use aluminum dowels spaced every 5 to 7 inches, creating an elegant horizontal pattern.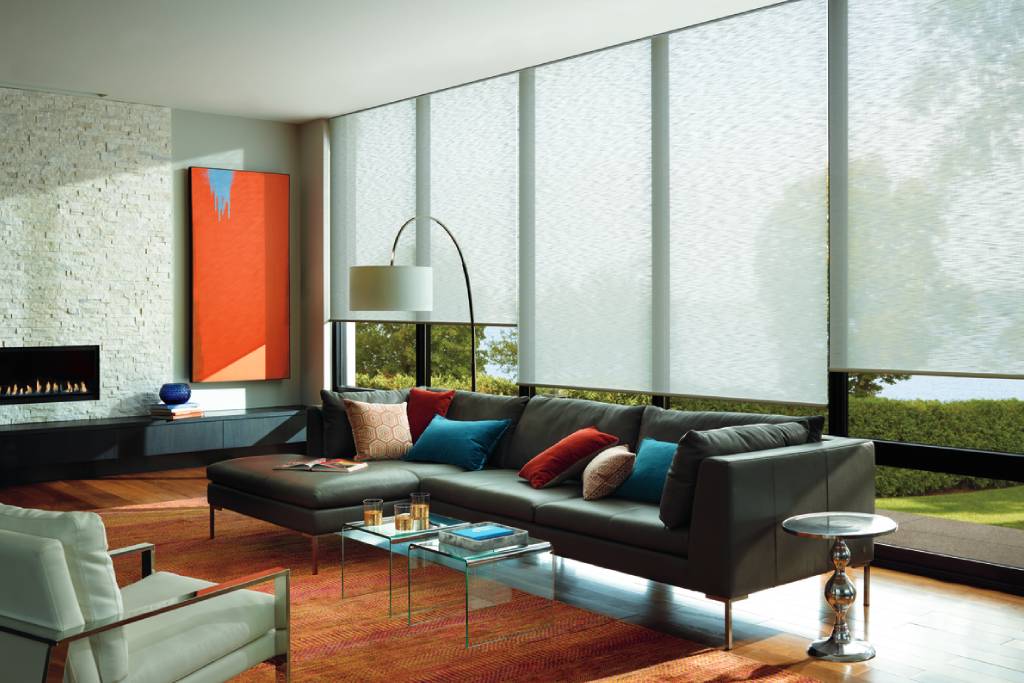 Roller-style wood shades are a great option for those who want a minimalist approach to window treatment. Unlike roman shades, which stack atop windows, these roll up into an attractive cassette that conceals any additional shade beneath. 
Roman shades take up less room at the top of windows than wood roller shades, so they're ideal for windows with picturesque views. You can choose from a variety of decorative brackets for wood roller shades. Add an upholstered cover in the same material as your roller shade for even more protection against damaging UV rays.
Wooden roller shades can also be closed to provide natural lighting in your room. The weave of the fabric will create subtle flecks or lights on your walls, giving the illusion that they are glowing.
Questions About Wood Shades
You can have custom-made wood shades, which gives you complete control over how they look and function.
How Do You Install Wood Shades?
Once you purchase these window treatments, you can immediately enjoy the woven wood shades benefits because they are effortless to install. All that's required is a pencil and screwdriver. 
First, decide whether or not you want your shades inside or outside the windowsill. Then place brackets on the frame or wall and mark holes with a pen—next, screw screws into brackets while aligning wood shades with brackets. Lastly, test it to ensure everything functions correctly before proceeding further.
How To Care For Wood Shades
Cleaning wooden shades is a cinch. Lower the shades, attach your vacuum with the brush attachment, then brush away. Alternatively, dampen a microfiber cloth and rub in any stains with it; avoid spraying directly with liquid, as this could make them too moist and lead to warping.
Are Wood Shades See-Through?
The light that can pass through wood shades depends on their weave. A thicker bamboo weave allows more light through than a lighter grass weave, so if privacy is an issue in certain areas, consider adding a liner at the back for additional protection. When your weave allows for enough light and you add a privacy lining, someone outside may still be able to see shadows and silhouettes inside your home if it is dark out. 
A blackout liner can help block light from entering the shade. Liners come in various colors, such as taupe, dark brown, and white. When selecting your liners, consider your weave style; an open weave may let you see the liner color better, while dark lines will make your shade appear dimmer overall. With lighter-colored fabric, you can more easily see the liner than with dark. 
Be sure to check liners and colors for any requirements on your wood shade's rear and face the street; HOAs or rental associations might have different rules regarding window treatments. Furthermore, choosing liners may affect the shade's actual color.
Quality Wood Shades From Your Local Window Treatment Experts
Woven wood shades give homeowners numerous benefits when searching for a natural and stylish way to spruce up their living spaces. Not only do they provide privacy, light control, and energy efficiency but also they add an inviting texture and warmth as well. With an array of colors, styles, and materials, woven wood shades can easily match any decor while creating a comfortable ambiance.
Whether you want a cozy ambiance in your bedroom, a relaxing retreat in your living room, or a functional workspace in your home office – woven wood shades are versatile solutions that help you reach your objectives. 
If you want to incorporate woven wood shades into your home, consider contacting The Window Design Studio. We offer top-quality custom window treatments in San Francisco. 
Our team of experts can assist in selecting the ideal shade to match your decor, providing professional installation services, and guaranteeing complete customer satisfaction with your new window treatments. 
Contact us today to book a free consultation and begin taking steps towards transforming your property while enjoying woven wood shades benefits.