Create an inviting atmosphere in your space or den by selecting one of these living room window treatment ideas. Your living room and den are often used in the home, so design them to reflect who you are as a focal point that lasts for months.
With so many materials, colors, designs, and textures to choose from, there are sure to be living room window treatments that suit both your style and budget. Whether you prefer something traditional or modern; natural or artificial light control; thermal insulation; or just a fresh update for the windows – living room window treatment ideas have never been more versatile! Here are some of our favorite window treatments.
Living Room Windows: 6 Ideal Solutions For Your Home
No living room is complete without the perfect window treatment. Whether you prefer something classic and timeless or bold and contemporary, there are endless living room window treatment ideas to suit any style. 
From shutters and blinds to shades and curtains, living room window treatments in Petaluma can instantly transform a space, creating an inviting atmosphere. With so many choices, you can find something that perfectly complements your living area. Make it count today by investing in these stylish window treatments.
1. Roman Shades
Roman shades are a favorite choice among interior designers due to their simplicity and elegance. Homeowners who wish to display other objects of interest in their living rooms will appreciate the minimalist design most roman shades offer.
Roman shades come in a range of textures and colors to fit your window's decor. A thick, dark panel on the back can offer more privacy while controlling light levels.
2. Cellular Shades
Cellular shades, also known as honeycomb shades, can improve the energy efficiency of your house while adding a fashionable flair. Cellular shades are popular living room window coverings because they trap air inside individual cells, creating an extra insulation layer. Cellular shades represent the latest advancement in insulation technology.
Choose from a wide range of pleat sizes, textures, and opacities to customize your living room. Cellular shades can be opened and closed like an accordion, and you can open them from the top or bottom of the windows.
3. Draperies
Draperies add an elegant and refined touch to any living area. However, if you want your room to feel relaxed, don't go overboard with formality – especially in the master bedroom or dining room.
Curtains can block out unwanted light depending on their thickness. Try choosing sheer fabrics like linen for a light and airy atmosphere in your living room.
4. Solar Shades
Sun shades, also referred to as solar shades, protect your floors and furniture from the damaging effects of UV rays. They are made of tightly woven fabric which blocks most UV rays while letting in as much visible light as possible.
Solar shades come in a range of transparency levels from 0% to 15%. Shades with zero transparency block UV light but reduce visibility; those with 15% openness block fewer UV rays while letting you take in the view from your windows.
5. Shutters
Shutters can transform your home into a charming cottage-style or Mediterranean oasis. Choose from wood, vinyl, or metal shutters for privacy and protection that won't be compromised.
6. Wood Blinds
After the recent pandemic, more homeowners are bringing nature into their homes – wood features have seen an unprecedented surge in popularity. Wood blinds provide your living room with a warm, classic aesthetic. Wood is an effective insulator and can block out the heat. Furthermore, these opaque blinds also block out most sunlight.
Window Treatments For Large Windows And Doors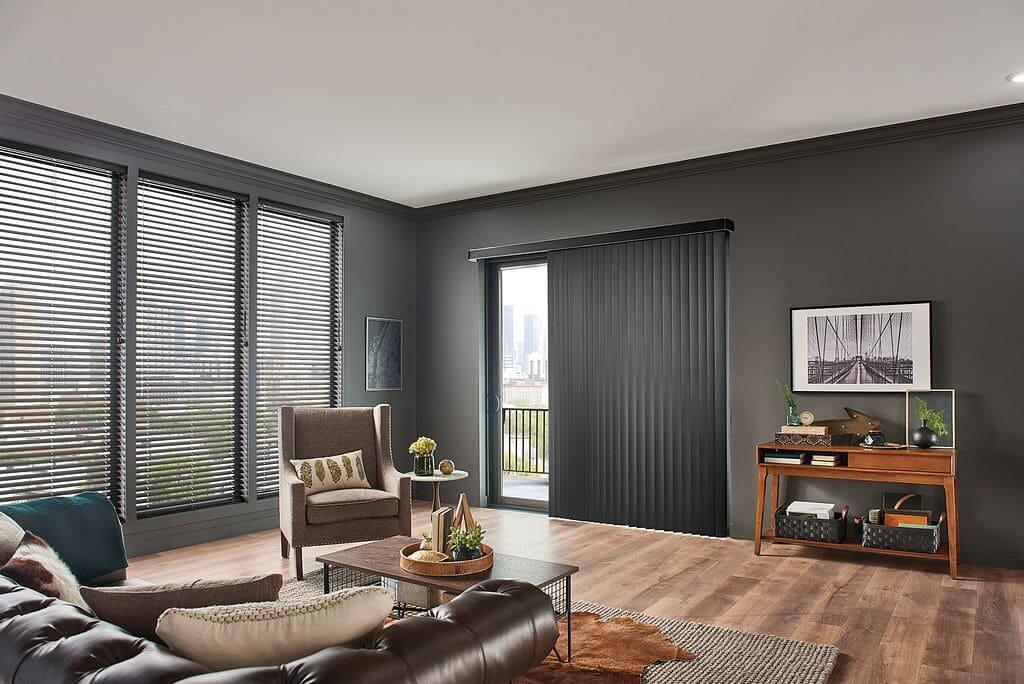 Large windows in the living room can be a beautiful feature that brings plenty of natural light and provides stunning views of nature. But finding an appropriate window treatment that balances functionality, privacy, and style can take time and effort. 
Fortunately, numerous options that suit any decor style are available – from minimalist modern to cozy traditional. 
Here are two great living room window treatment ideas that work perfectly for larger windows.
For decades, homeowners have used vertical blinds to cover large windows. Unfortunately, opening and closing these blinds can be a hassle. Motorized verticals offer an easier solution that saves both time and labor. Your friends will surely be impressed when you show off your stylish windows.
Sliding panels are an increasingly popular trend for covering large windows. These modern blinds look better than traditional vertical blinds and come in various fabrics. To add to the atmosphere, motorize them for added fun during guests' visits.
More Living Room Window Treatment Ideas From Experts in San Francisco
The living room is the heart of any home, and with the right window treatments, you can achieve an elegant aesthetic that fits your style. Window Design Studio offers high-quality custom window treatments in San Francisco at reasonable prices so that your living room looks exactly how you want it to. Schedule a consultation today and let our experienced designers help you explore our living room window treatment ideas and find your ideal solution.
We look forward to bringing your vision of perfection into reality.