Sipping a steaming mug of coffee, the morning sun's glare is too much to bear in your kitchen. That's when it hits. You need the best shades for your kitchen window. But where do you start?
We've all been there.
The choices seem endless, and each one more confusing than the last. Roller, roman, cellular or solar – which will ensure sunlight doesn't steal your peaceful mornings again?
In this guide, we're going on an enlightening journey together! We'll help you understand how natural light enters our kitchens and pick out durable materials for our shades. We'll even explore high-tech options like motorization!
You see, my friend, finding those perfect shades isn't just about blocking sunlight. It's also about adding style while ensuring privacy.
Can't wait to get started?
The Art of Assessing Sunlight Volume
Start by evaluating the amount of daylight that enters your kitchen. If your kitchen receives ample sunlight, consider light filtering shades to control harsh rays while maintaining a well-lit environment. These shades are an excellent choice for kitchens with abundant natural light.
On the other hand, if your cooking space lacks natural light, opt for more transparent solutions like sheer shades. These shades allow maximum illumination, making your kitchen brighter and more inviting.
The Importance of Determining Sunlight Direction
In addition to the quantity of sunlight, the direction from which it enters your kitchen is also essential. If your kitchen's windows face east and receive morning sun, choose materials that reflect glare without compromising light intake. Window films, for example, can be a great option to reduce glare while allowing ample natural light into your kitchen.
Energy-efficient choices like cellular shades or blinds are ideal for kitchens with west-facing windows that receive intense afternoon sun. These shades provide superior insulation and allow you to control the amount of light entering your kitchen, creating a comfortable and well-lit space.
Privacy Needs in Your Kitchen: The Right Shades Matter
What role does privacy play when choosing window treatments for your kitchen? Privacy is of great importance when selecting window treatments for the kitchen. Finding the perfect balance between letting natural light flood into your space and maintaining seclusion is a juggling act.
In essence, aesthetic appeal and practicality should be considered when making this decision.
The Uniqueness of Cellular Shades
Apart from their unique design that offers superior insulation, cellular shades ensure complete privacy while allowing soft, diffused light into your space. It's not just about covering up – it's also about creating an atmosphere.
Coverage without compromise: They keep prying eyes out while keeping the style intact.
Versatility in use: Suitable for any room but particularly effective in kitchens where both lighting and privacy needs are paramount.
Eco-friendly option: These honeycomb structured shades provide excellent energy efficiency, too.
Roller & Solar Shades – Clear View with Privacy
If you want to maintain daytime visibility outside and ensure sufficient opacity for indoor activities, roller or solar shades may hit the mark perfectly. Here's why:
Their semi-transparent fabric allows filtered sunlight during daylight hours yet provides enough coverage when needed.
You control how much view or brightness you need at different times.
Diverse range available catering to varied decor styles and personal preferences.
Say Hello To Convenience With Motorization.
Motorized blinds and shades bring together ease of use and precise control over your lighting. Say goodbye to manual tweaks – it's all just a button press away.
Choosing Kitchen Window Shades to Complement Your Style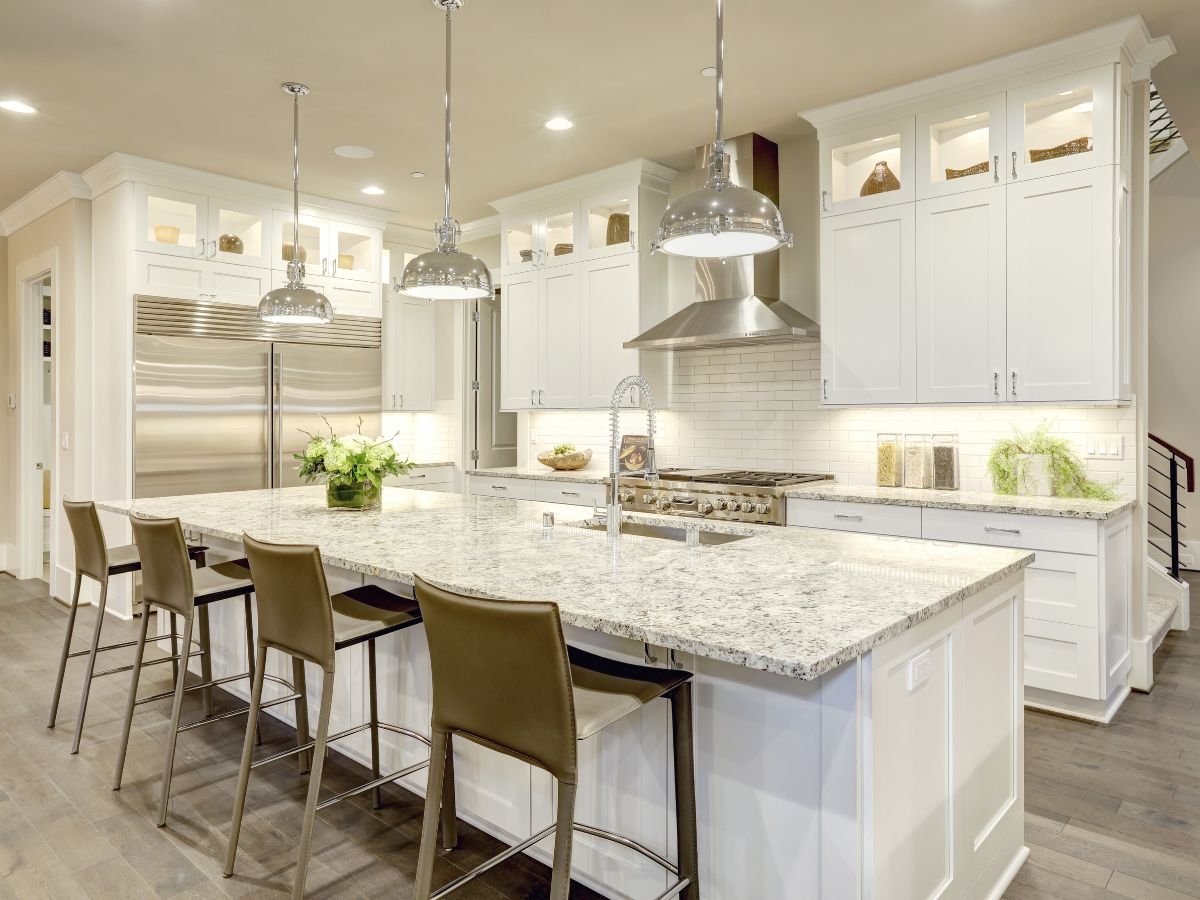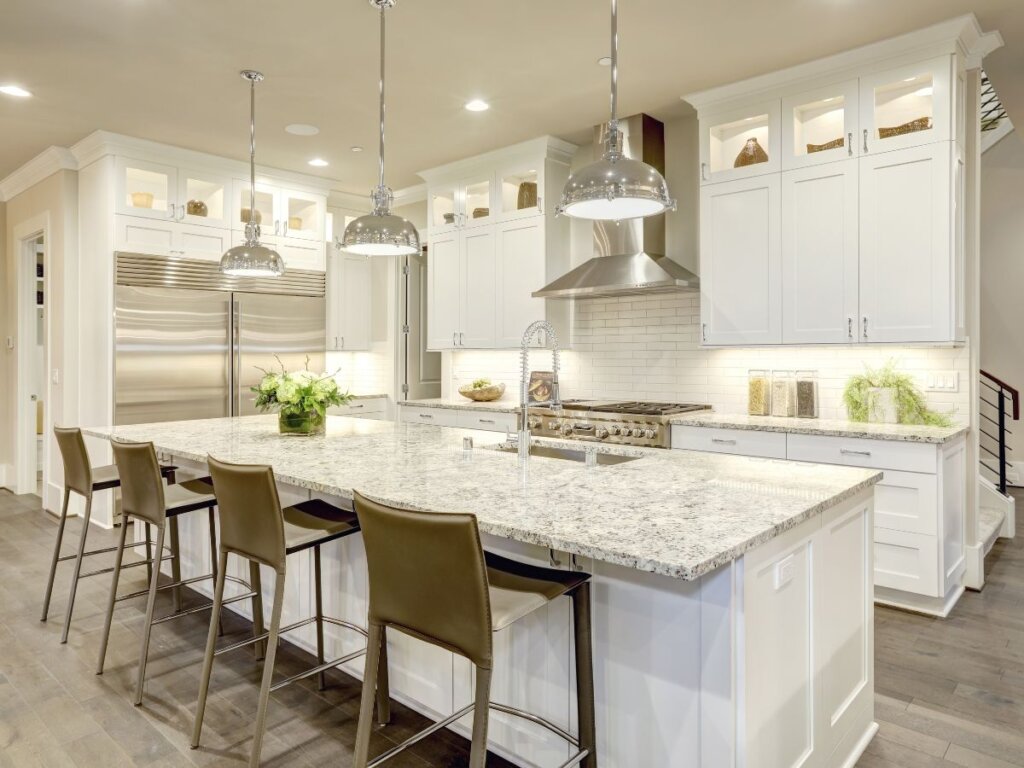 The kitchen is often referred to as the center of a residence. So, what does your heart desire when it comes to window shades? At The Window Design Studio, we offer a range of options that will suit any style – contemporary, traditional, or modern.
Aesthetic Choices for Contemporary Kitchens
Contemporary kitchens favor sleek lines and minimalist designs. If this sounds like your space, consider our selection of roller or solar shades. These choices provide clean lines that won't disrupt your kitchen's overall aesthetic.
Roman and Cellular: A Perfect Match for Traditional Kitchens
If you have a traditional kitchen filled with warm tones and comfortable furnishings, roman or cellular shades could be an excellent choice. Besides being aesthetically pleasing in neutral colors, these options are energy-efficient too.
Smart Solutions for Modern Kitchens
Innovation defines modern kitchens not only in terms of design but also functionality. Our motorized blinds integrate seamlessly with Smart Home systems, allowing ultimate convenience at your fingertips.
Remember: while choosing based on style is important, light control and privacy should also factor into the decision-making process when selecting window treatments.
Opt for Robust Materials: The Secret to Long-lasting Kitchen Window Shades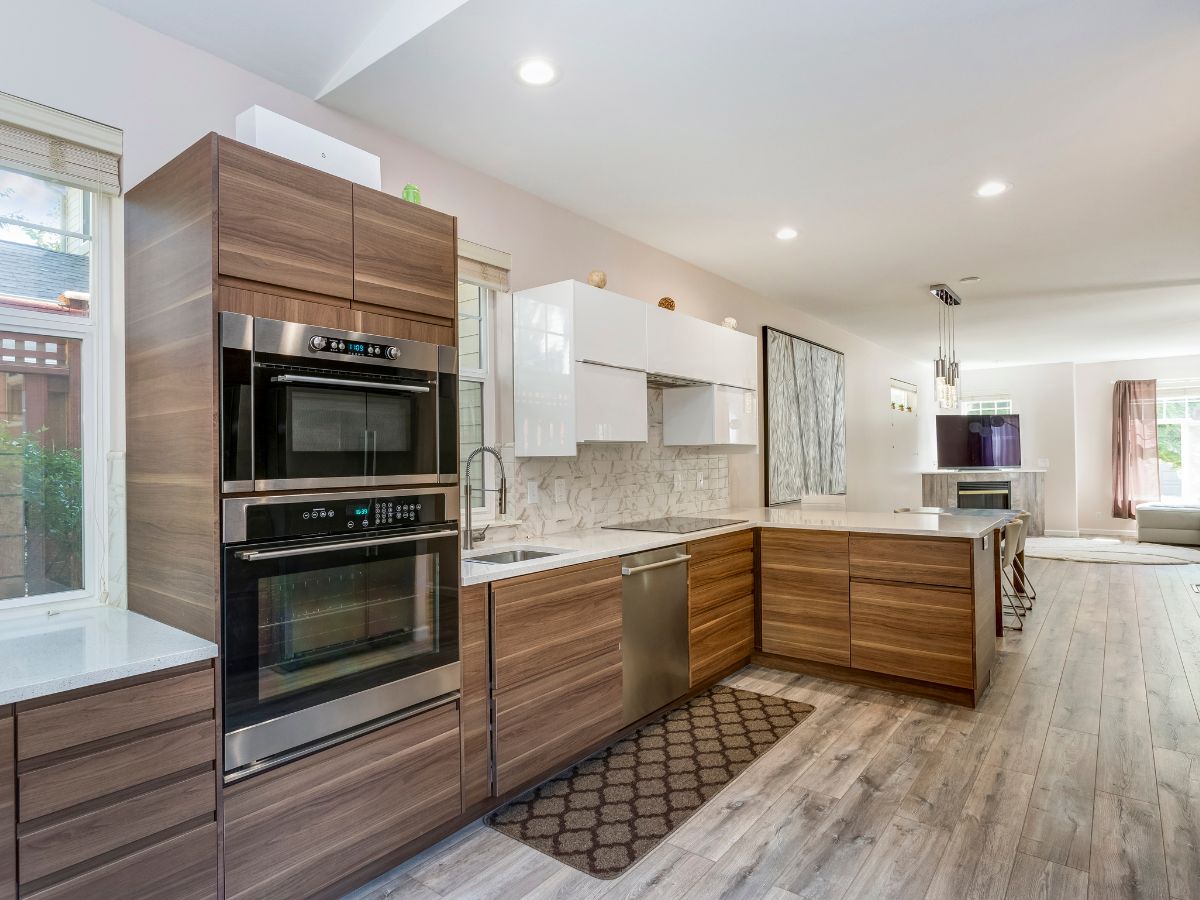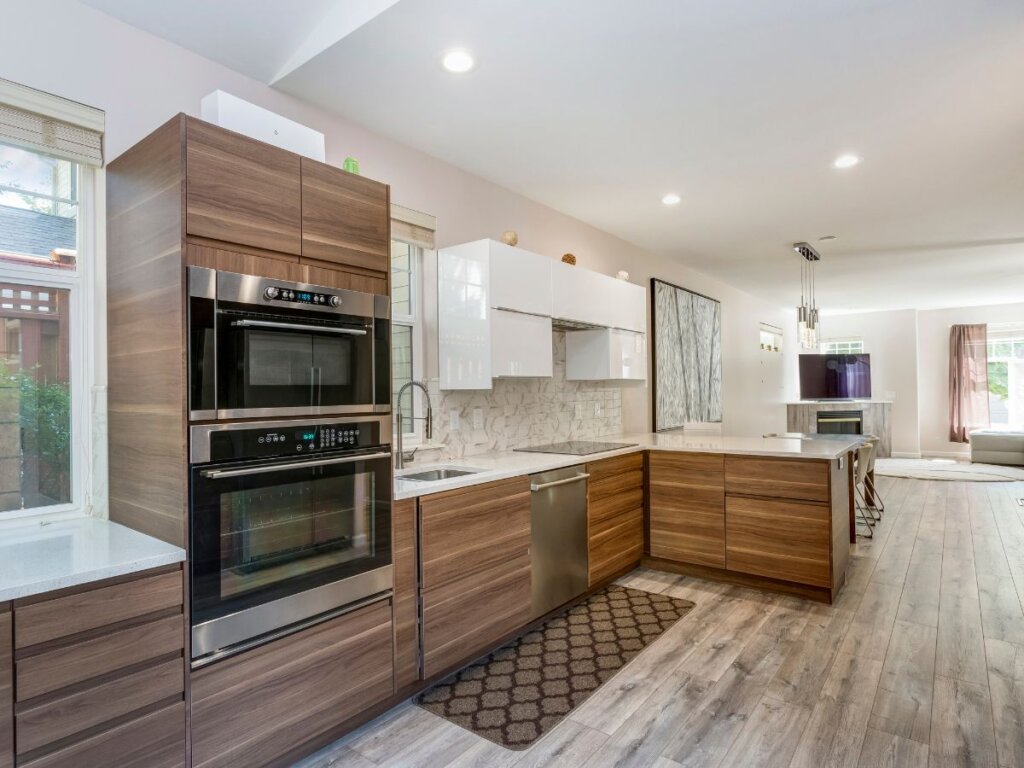 When choosing shades for your kitchen windows, durability is key. These window treatments need to withstand heat and moisture. So, where should you start?
Polyester – A Blend of Style and Durability
In other words, if you want shades that can endure the humidity typical in kitchens without losing their charm over time, polyester-based shades are the way to go.
Consider solar screen fabrics; they are incredibly durable and block harmful UV rays from entering your home.
The Significance of Moisture Resistance
Your kitchen windows encounter steam regularly, whether from cooking or dishwashing tasks. Therefore, water-resistant materials are not just an option – they're essential.
Faux wood blinds provide an appealing mix of aesthetics and practicality due to their resistance against warping caused by high humidity levels.
If ease of maintenance tops your priority list, then aluminum mini blinds make a compelling case – simply wipe them clean.
Making Your Kitchen Smarter With Motorization
If you thought smart home tech was limited to appliances and entertainment systems, think again. Motorized shades from The Window Design Studio can be integrated seamlessly into any existing smart home setup, allowing for automatic light adjustments based on various factors such as time or weather conditions.
Besides convenience, these modern additions could also help cut down energy costs by effectively managing daylight during peak sun hours – another win.
A Style for Every Kitchen
Searching for the perfect fit need not be a hassle. Whether you lean towards minimalist roller designs or prefer classic Roman styles – our extensive range ensures there's something for every taste and budget. Explore The Window Design Studio's selection of motorized shade options to discover how easy it is to enhance both functionality and aesthetic appeal in your culinary haven.
So, you've made it through the journey of picking out the best shades for your kitchen window. Not as daunting as you thought, right?
You've learned how to understand and work with your kitchen's natural light.
You've discovered that privacy is just as important in a bustling kitchen environment.
And let's not forget about style! Your choice of shade can complement and elevate your entire kitchen aesthetic.
Durability matters too. You now know that moisture-resistant materials are key for longevity in a busy cooking space.
Last but not least, motorization isn't just fancy tech – it adds convenience to controlling light levels at any time of day!
The Window Design Studio is here to help bring all these elements together. We're dedicated to helping you find the perfect balance between function and fashion when choosing window treatments for your home. Our experts will guide you every step of the way, so don't hesitate to reach out if you need more guidance or have questions about our products or services. Contact us today.
We look forward to assisting you on this exciting design journey!